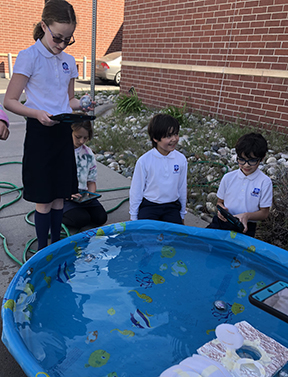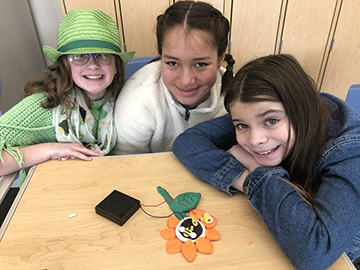 St. Mary's follows the International Standards for Technology in Education standards. Students K-6 attend a Computer Science class weekly. In addition students in these grades enjoy a 1:1 device to student ratio and use computers in their classroom to enhance learning. St. Mary's uses Google Classroom for Grades 1-6.
Students learn the basics of computer programming beginning in Kindergarten. Students begin with blockly and then in later grades begin to use snippets of Java code and Python. In the past we have created projects in code.org, Scratch, Minecraft, Roblox Developer and several other instructional websites and platforma. Studetns also experiment in physical coding with the Raspberry Pi and little bits electronic circuits.
In addition to computer classes, students participate in a quarterly STEAM project. Past projects have included:
Learning about bee pollination using Sphero robots
Using virtual and augmented reality for virtual field trips, animate and learn about dinosaurs and space
Using Sphero robots to paint the northern lights while learning about the Iditarod trail
Exploring food chains with robots
Robotics Clubs
St. Mary's also offers robotics clubs. Students grades 1-3 explore robotics with Lego WeDos. Grades 4-6 explore the Lego Mindstorms. St. Mary's competes in the Wyoming State Competition in Casper, Wy. Students spend the night away from home and attend the all day competition on the first Saturday of December. The competition comprises of three parts: team work, a project, and the robot games. The emphasis of the competition is learning to work with others and resolve conflicts with teamwork and professionalism.